One memorable Christmas gift Brendan Ben Feeney, visual artist, writer, educator, blogger, and communication consultant was given by his parents in 1967 was a painting easel. While others were tossing footballs, Brendan Ben Feeney was creating art.  He has an uncanny ability to observe the natural world and capture it through photography, installation art, sculpture, sketching, painting, and printmaking.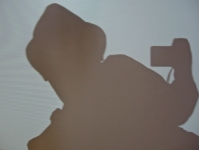 An avid traveler, Mr. Feeney always carries a sketch pad and/or camera with him. Mr. Feeney's once said in an interview "Every story has a picture. Sometimes I have the great fortune to be in the proper place–at an improbable moment–to document that story."
When discussing his artwork, he notes, "I try to capture fast fleeting moments with intensity and purpose. I also have the patience of Buddha, sitting for hours for an artistic moment to unfold before my eyes." He goes on to mention, "Some of my artistic creations have aspects of abstraction. Other works are crystal clear. One thing that happens with my art, when displayed, is viewers tend to linger and discuss what they see–or what they feel is my intent when capturing a particular moment in time and space."
Some of Brendan Ben Feeney's artistic influences are derive from the poetry of Mary Oliver, Robert Frost, Walt Whitman, Dylan Thomas, and The San Francisco Beat Generation. He is also inspired by introspective music of fellow Massachusetts residents Livingston and James Taylor. He often listens to sixty-year-old recordings of the Modern Jazz Quartet. In a recent interview, Brendan  Ben Feeney spoke of the ever-changing artistry of Pat Metheny, jazz guitarist and Neil Young,  innovative singer/songwriter. He has a deep affinity towards The Counting Crows.  " The Counting Crows take me home to California. When they sing about 'perfect blue buildings' or taking the long way home to 'Sullivan Street.' I can relate." Mr. Feeney enjoys live music and revels in the precision and perfection of the Boston Symphony Orchestra, San Francisco Symphony Orchestra, Santa Fe Symphony Orchestra, The New York Philharmonic,  and Seattle Symphony Orchestra.
There is a spiritual side to Brendan Ben Feeney.  He derives inspiration from Buddhist spirituality, the Episcopal faith, and is a member of GLIDE Memorial United Methodist Church, San Francisco, CA. "Worship is a transformational experience that spills over into my art and interactions with others," notes Mr. Feeney.
Brendan Ben Feeney admires the creative choreography of the Doug Varone Dance Company based in New York City.  Mr. Feeney served on the 2010 DOVA Benefit Board and presently serves on the DOVA 2012 25th Anniversary Celebration Board.
Brendan Ben Feeney is inspired by photographers Dorothea Lange, Richard Avedon, Margaret Bourke White, Weegee, Eliott Porter, Robert Mapplethorpe, Joel Meyerowitz, Diane Arbus, Herb Ritts, and Ansel Adams. He finds visually appealing the paintings of former Truro summer resident Edward Hopper. Mr. Feeney notes, "I am also attracted to  paintings displayed at the 1913 Armory Show as well as American Pop Art of the 1960s."  Brendan Ben seeks out 1950s American Abstract Expressionists painters' work when displayed in modern collections worldwide.
Mr Feeney notes, "One of my most exciting moments as a visual artist is to converse and paint alongside artists Selina Trieff and Bob Henry. Both my painting mentors were students of Hans Hoffman in the 1950s. Selina, Bob. A few years back, the 3 of us created  monumental images on the wall of the old wing of the Provincetown Art Association Museum (PAAM)—before it was reduced to memory."
Mr. Feeney also enjoys what he classifies "'the visualization of vitality" in Jacob Lawrence's paintings. Mr. Feeney comments, "The MOMA in New York City has one of the best collections of Mr. Lawrence's work on display." Also when speaking of artists whom he admires, Ben comments, "Keith Harding's work is magnetic to the eye." He notes, "When I view Keith's alter piece at Grace Cathedral, San Francisco,  California,—which was one of Mr. Harding's final works–I am reduced to tears."
Brendan Ben Feeney recently completed a series of 3-dimensional panels using organic material sourced from the beaches of Cape Cod, Massachusetts and Portland, Maine. His summer project brings him back to more painting, sketching, and printmaking. Photography is also on Mr. Feeney's artistic docket.
Mr. Feeney comments, "I am now shooting a lot of street and  night,  photography in San Francisco, Northern California, Iceland, Toronto, New York City, Providence, Rhode Island, Denver, Cape Cod, Massachusetts, and Northern Europe. I'm experimenting with a new type of image–the abstract expressionist photograph." He notes, "This takes me to Times Square, New York, New York–at 3:38 AM–spinning with my cameras, on the island in the Square. Who cares what I look like at that moment? Creating art often places you in interesting positions."
Mr. Feeney returned recently from a photographic assignment to document a series called "Stairs in Motion." This work was shot for a private client in New York City.  He was also in Canada to shoot street photography and comment on the work of Grace Kelly at the Toronto Film Institute.  He also is involved in several major cinematography projects this summer.
His 2010 and 2012 Christmas cards were selected in a juried show at the PAAM and currently plans to exhibit his work here and abroad during 2012-2013. His work will be in a group show in Virginia in the winter of 2012-2013. A major photo shoot is in the works in Iceland and he has booked a project to capture California's famed Highway 1.
Mr. Feeney notes, "While in San Francisco I visit the Museum of Modern Art, The Academy of Science,  and the de Young Museum. I also like to sleep in the day, and shoot photography at night in San Francisco's many vibrant neighborhoods." Critics note Mr. Feeney has the ability to capture the "synergy of night" in many of his iconic street photographs. He is also masterful capturing "moving images" and "images from a distance" which he titles, "A View With A Room."
Mr. Feeney was the former Visual Artist for the Boston Symphony Orchestra's prestigious Days in the Arts summer program in the Berkshires. He served on the Museum of Fine Arts, Boston Educational Advisory Board, and had 2 works of art selected for the 40th Anniversary Retrospective Show at Massachusetts College of Art. He is a member of the Provincetown Art Association Museum (PAAM) in Provincetown, MA, Cape Cod and has taken master classes at the Fine Arts Work Center, Provincetown, MA, Boston University's PCI Program, The Castle Hill Center for the Arts, Truro, MA, and MassArt, Boston.
Mr. Feeney's visual art is in private and corporate collections. He also displays work in museums in New England.
Staff/Associates:
Mary Catherine Egan: Site Selection. Editorial Advice. On-site Catering.
Brendan Francis Feeney, Sr.:  Business Manager. Archivist.
Scott Lamlein: Web Design. Editorial/Design Advice. North Forty Road Web Design.
Will Sherwood: Web Design. IT Production. Sherwood Hosting.
Barry Stahl: Archival framing. Owner of Big Frames, Incorporated.
Mr. Feeney photographs exclusively using Canon photographic equipment. He prints his  photographic work using archival, museum quality photographic paper.
You may now follow Brendan Ben Feeney on Twitter as of late spring, 2012.